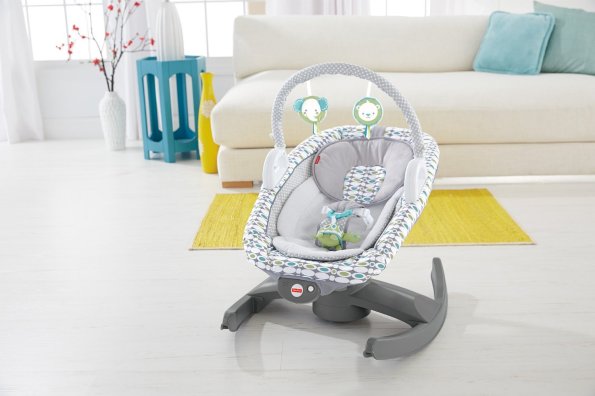 Here's a fab discount on the Fisher Price 4 in 1 Rock N Glide Soother in the Aqua Stone pattern. Today only, you can shop at Amazon.ca and score this baby necessity for 60% off the original price which means you will pay $63.99 as opposed to $159.99. That also includes shipping and handling.
The Fisher Price 4 in 1 Rock 'N' Glide Soother is a great tool for any mom with a new baby. It has four different Rock n Glide motions to help keep baby content and calm. You can even opt for it to rock or glide in a head-to-toe movement or side-to-side. There are three different gliding speeds and two different reclining position. As if that wasn't enough, this swing-type baby item has calming vibrations as well as music and soothing nature sounds. The overhead toy bar is removable so you can use it or put it aside until baby is old enough to try to reach. They are soft, so if baby does get a hold of them you won't be worried.
I had a very similar swing for my son when he was an infant, and it was definitely a life saver. I was able to rotate the seat so that he could be facing any direction. He enjoyed watching me wash the dishes or watch my favourite TV show while he comfortable rocked back and forth. I took care of my son on my own, so this was definitely worth the money. It gave me a much needed break when I needed it most and I hope that it does the same for you.
You can also rest assured that this Amazon.ca price is the best that you're going to find. At $63.99, I would consider this a steal. Especially considering this very same swing is $159.99 @ ToysRUs.ca and on sale for $135.99 @ Sears.ca. Walmart.ca has a similar swing for $79.99 but it is not the exact same. This Rock n Glide is also very portable, so if you do a lot of travelling to your parents or in-laws house then this is going to be your lifesaver.
This item ships from and sold by Amazon.ca in a certified frustration free packaging. Since it is shipped and sold by Amazon Canada, you will get free shipping because it is over $25.Getting free shipping on an item of this size definitely makes the deal even better.
(Expiry: 6th December 2015)