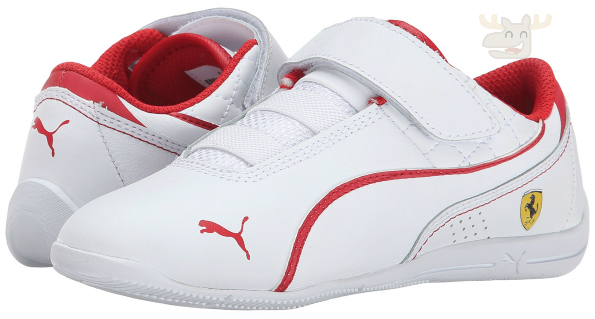 If your child is addicted to brand name, stylish shoes, then pick up a pair of Puma Drift Cat 6 L Sf V Kids' Shoes at Amazon Canada. The Puma Drifts usually retail for $59.99, but they are now on sale for $24.73 in select sizes.
These shoes are totally awesome for kids. They come in sizes 4 up to size 10. The Drift Shoes have a Velcro strap across the top of the foot for easy on and off. They are also totally made of leather with a rubber sole for comfort. Four colours are currently available, though the red and the red/white are becoming rather limited.
Now, price depends upon the size you are buying. I found that White / White / Black have sizes 4 to 8 at this price. The same is true for the black colourway. It appears that only the sold out at Amazon pairs and the size 9 and 10 for most colours are at a higher price point. Given that these are nearly 60% off, we thought this would be a great deal.
I was talking to my co-worker and they LOVE these shoes for their children. Brooke said:
My son had a pair and just grew out of them. I think I paid $70 or something!! I am SO ordering another pair.
My other fellow blogger Eva also really likes these shoes:
My son only wanted Nike or Puma shoes (getting to that age) and he absolutely loved these slick shoes, which he finds so comfortable for wearing at school each day. Plus, his friends think they are cool ;)
I think these shoes look pretty good too. Whether you have a boy or a girl, they would be comfortable in these shoes and the shoes are very durable as they are made of leather. They might even survive one child to be handed down to the next child. Either way, these shoes are a HOT deal for anyone with little feet to stick shoes on. It is far better to buy them here at Amazon Canada then from Puma in the USA where you will be charged the exchange rate.
Receive free shipping on orders of $25 or more at Amazon Canada. Shipping is free for Prime Members.
(Expiry: Unknown)