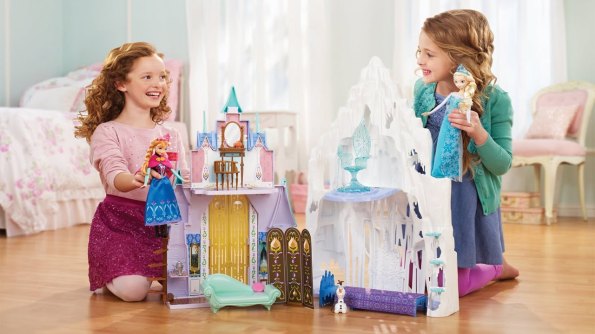 If you're doing some last-minute shopping for a little girl that loves Frozen and Princess Elsa, I've come across a great deal at Amazon Canada.
Regularly priced at $159.99, this play set is marked down by 55% right now to only $71.97! Amazon's prices can fluctuate quite a bit and a great discount can be hiked back up pretty quickly so, if you're interested, jump on this one right away! If you're an Amazon Prime member, you'll receive it in time for Christmas at no extra charge! Otherwise, be sure to select one- or two-day shipping at checkout if you want it under the tree for Christmas morning!
Inspired by Elsa's icy mountain castle, little Frozen fans will love this magical, light-up play set. Kids can interact with the palace in so many neat ways!
Tap the large snowflake on the door to activate a magical light show - just like in the movie!
Press the button on top of the castle to send the chandelier downward into the main room
Turn the crank to expand the castle - watch it grow taller!
Accents like a mirror and window turn to reveal moments from the movie
Turn snow to stairs
The set comes with lots of extras including a scepter, perfume bottle, bracelet, brush, silverware and food, cups, and doll stand. They do note that an Elsa doll is not included and, of course, neither are batteries! If your little princess doesn't have her own doll, Amazon Canada also has this Elsa doll for 52% off its original price, just $10!  And be sure to have 3 AAA batteries on hand for Christmas morning.
I looked for Elsa's Ice Palace elsewhere and Walmart has it priced at $150! The price at Toys R Us is in line with Amazon's but they don't appear to have online stock as it's only available for in-store pick up. And, as your order will be over the $25 threshold, Amazon.ca will ship it for free anyway! What a deal!
I think this play set would provide hours of fun for years to come; the recommended age range is 3 - 10 years.
What do you think, Moosers? Do you have a little girl in your life that would love this?
(Expires: Unknown)