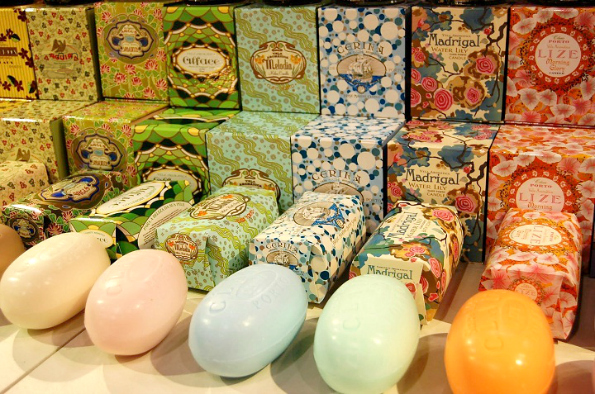 I am a sucker for fancy soap. I love the smell, I love the colour, I love the fancy packaging. These Claus Porto's Deco Collection soap bars are gorgeous for keeping and for gifting. Originally $13, these bars of soap are now on sale for $6 each. Claus Porto is the oldest and most prestigious soap making factory in Porto, Portugal.
There are four scents still in stock with the fifth sold out already. I would love to find Water Lily Bar Soap in my stocking this Christmas. The gorgeous pastel hues of pink and blue on the box hide within a pastel blue 5.3 oz bar of imprinted soap. The soap is made with shea butter so it will leave your skin soft.
The Brise Marine Bar Soapis a slightly darker hue, reminiscent of clear coastal waters foaming up to the beach. Claus Porto has been making soap since 1887 so you know that your body is in good hands. Have a marine themed bathroom? Pick up this bar of soap to complement it.
The Red Poppy Bar Soap lives up to its name. This bold red coloured soap will be unusual and fun in the shower. I am thinking of this bar of soap in a bathroom with Mexican tiles. It will really pick up and complement pops of bright colour in your bathroom.
For bars of soap that are a little more subdued in hue, the Honeysuckle Bar Soap is probably your best choice. First: honey. We all love honey and the scent of honeysuckle is pleasant to the nose. Secondly, this bar is the colour of honey so it will match with almost any bathroom.
There is also another reason I am posting these soaps - for this brand this is incredibly cheap. Here is a price comparison to give you a look at the general going price for these soap bars:
$14.50 @ Men Essentials.ca
$20 @ Fendrihan.ca
$20 USD @ Amazon.com
Given that these bars of soap retail for $20 at most places, I was pretty tickled pink by this deal. These bars of soap are pretty well sought after and would make excellent gifts for Christmas.
Receive free shipping on orders of $25 or more at Chapters Indigo.
(Expiry: unknown)