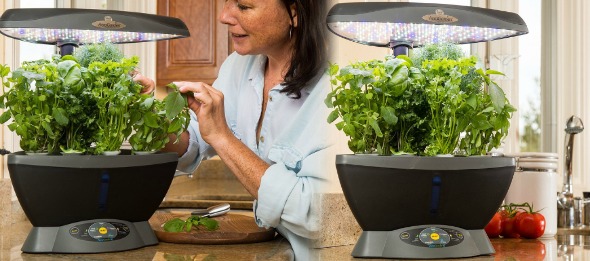 Amazon Canada is always impressing me with their daily deals. Today you can get 51% off the Miracle-Gro AeroGarden 6 LED with the Gourmet Herb Seed Pod Kit. The price was originally $203.66, but for the rest of today you can pay just $99.95, unless it sells out before then. Plus since this item is over $25, you will get free shipping.
In the spring and summer, I always have my own vegetable and spice garden in my back yard. It ends up being my mental oasis where I can get away from everyone and everything and just focus on gardening. In the winter I find myself ripping my hair out, because I don't have that getaway. I had asked for an AeroGarden for Christmas, but now I can just buy my own!
Amazon Canada has the Miracle-Gro AeroGarden 6 LED with the Gourmet Herb Seed Pod Kit on sale for 51% off the regular price, which means you will be left paying just $99.95. This is the lowest price around on this product, and it will be well worth it. Not only will you get to grow and care for your own indoor herb garden, you will get to enjoy them in your foods too.
While this AeroGarden originally comes with the Gourmet Herb Seed Pod Kit, you can buy so many other pods for it. With your new Miracle-Gro AeroGarden 6 LED you can grow fresh herbs, vegetables, salad greens, flowers and so much more. Are you ready for an indoor oasis?! This AeroGarden is definitely designed for high performance with the full spectrum LED Grow Lights. It is corner friendly with the unique triangular shape, and it boasts 6 separate growing sites. The 6-Pod Gourmet Herb Seed Kit includes Genovese Basil, Chives, Cilantro, Curly Parsley, Dill and mint - some of my favourites!
I've even seen the "Grow Anything Pods" which allow you to insert your own seeds and grow anything you wish, in reason of course. I would be growing cherry tomatoes! Yum yum. What would you grow, Moosers?
Amazon.ca offers free shipping on orders over $25, so luckily you won't have to worry about any extra expenses for shipping and handling on this item.
(Expiry: 28th December 2015)