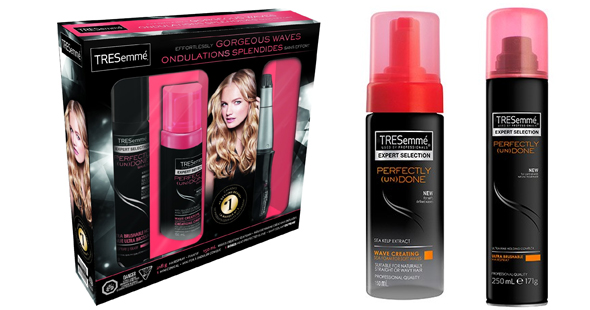 After Christmas sales are the perfect time to find deeply discounted gift sets. This often allows you to try a new product or perhaps get a few of your favourites for a lower price. Sometimes the sets are made up of travel size items that are just perfect for any upcoming vacations away from this cold or to squirrel away for the summer. In the best gift sets, the company has thrown in some extras.
Fellow Mooser, Brooke, has found a gift set at the always-reliable Amazon Canada that meets all of the above requirements for a great find. Amazon.ca has a TRESemmé Perfectly (un)Done Bonus Gift Pack for 50% off its original $20 price tag -- get the whole kit and caboodle for only $9.99. Orders over $25 will ship for free.
The "bonus" in this gift set is a great one. It's a mini curling wand and a heat protecting glove. This curling wand is the perfect size for keeping stashed in your desk drawer at work for quick touch-ups, travel or just for those ladies with shorter hair. The set includes:
TRESemmé Perfectly (un)Done hairspray (218g)
Waves creation sea foam (150mL)
Heat-protected glove
Mini Conical Wand
These TRESemmé Perfectly (un)Done products are great for anyone who likes to encourage the natural curl in their wavy hair or for those with straight hair that like to try out those cute, tousled waves every once in awhile. They're very easy to use. Just put 2-5 pumps of the Waves Creation Sea Foam in your hand and distribute evenly through damp hair. If you have naturally wavy hair, just scrunch in and air dry or diffuse with your blow dryer. To create waves in naturally straight hair, work in sections. Wrap each section around the heated curling wand. Be sure to hold the wand vertically and twirl away from your face for a spiral effect. Brush through and fix with the included Perfectly (un)Done Hairspray. Perfect for a New Year's Eve soirée!
These even appear to be full-size bottles. I was able to find the 218g TRESemmé  Perfectly (un)Done Hairspray for $7.99 alone! The 150mL Perfectly (un)Done Wave Creation Sea Foam sells for $7.26. The least expensive mini curling wand I could locate was still $20 and the cheapest heat resistant glove was $10. Add that up and you'd be paying $45.25! Pay just $9.99 at Amazon.ca and save 78%!
The same gift set is also on sale at Walmart.ca for this great price but your free shipping threshold is much higher at $50. But if you're already placing an order with Walmart, pop it in your cart there and get the same great savings!
(Expires: Unknown)