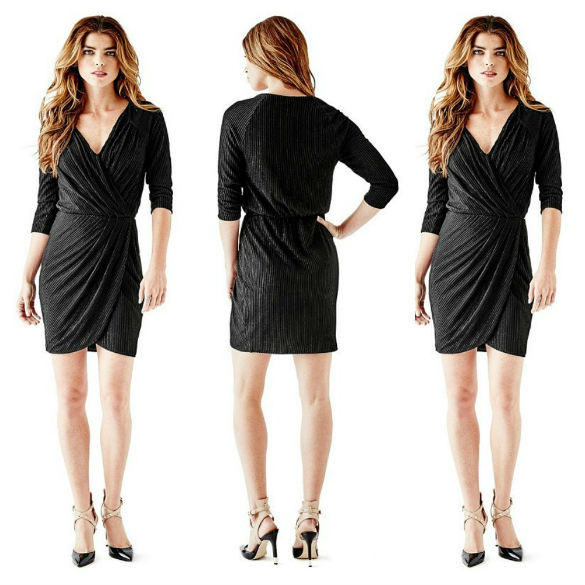 For anyone looking for holiday outfit or a New Years dress, Guess.ca might have something for you! The sale section is currently offering 50% off most items and 40% on select holiday dresses and shoes.
While some of the pieces might be a little edgy, New Years and Christmas are a time to have fun with your outfits and to embrace sparkles and fun colors. What makes the sale section so interesting is that there is such a wide variety of items. There is no code needed to get the 50% discount, it already appears in the displayed price.
You can also get free shipping if you order for more than $125 with the code GCA125.
I especially like this wrap dress,available in metallic black and metallic blue. It would be great to wear during festivities but could also be worn after the holidays with a warm pair of tights. It also has a great asymmetrical cut that suits all body types.  It was $108.00 and is now down to $43.20.
For something even more festive,I would recommend this fringe dress.  Fringe dresses are so glamourous and make dressing up so much fun. I bought a fringe dress two years ago and I still wear it. Every couple of years fringe seems to go back in style but to me, fringe dresses are timeless and can be worn for many formal occasions. This dress was $138.00 and is now reduced to $55.20.
I often overlook Guess as a place to get formal or semi-formal wear but they really have some different pieces that stand out. Guess clothing is very trendy but I've always found the quality of the clothes very good so it's worth giving the sales section a look. Even if some of the clothes aren't your style, something might still catch your eye. I prefer their dresses amongst everything else they offer since their fit is so flattering. The dresses on the model look very short but I can assure that on someone of average height (5'5 like myself) the dresses aren't so short, they hit at the knee, which is a more comfortable length for most people.