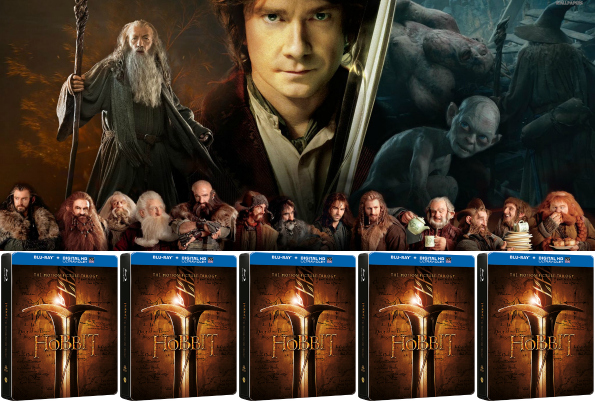 Holy mother of elves, The Hobbit Trilogy Steelbook (Blu-ray) is on sale for 50% off at Best Buy Canada! The Steelbook edition of the collection is exclusive to Best Buy Canada - you will not find it anywhere else. Originally $59.99, The Hobbit Trilogy Steelbook (Blu-Ray) is now on sale for $29.99 and comes with free shipping. I LOVE THIS MOVIE TRILOGY!
This is the PERFECT Christmas gift for the fantasy, Tolkien, LOTR, and Hobbit lover in your family or circle of friends. The Steelbook edition is absolutely gorgeous and is collector quality. Rather than chintzy plastic and cardboard, the case is made of metal with Sting (the sword, not the singer) featured on the front. This set is the entire three movies with bonus features in Blu-Ray with digital HD copies included. Not only is this an utterly amazing price for the Steelbook, it is a phenomenal price for the Trilogy on Blue-Ray.
I price compared just the The Hobbit Trilogy (Blu-Ray) with other retailers and it is currently sold at Amazon Canada for $55.18 and at Walmart Canada for $59.96 (sold out). You cannot even find just the DVD version for cheaper. The DVD version of The Hobbit Trilogy is $41.88 at Walmart and $49.15 at Amazon Canada. The regular Blu-Ray version is even $59.99 at Best Buy and the DVD version is $41.99 at Best Buy. This is the CHEAPEST you will find The Hobbit Trilogy in ANY format.
What is so awesome about this set - well, it is The Hobbit! It is the adventures of one Mr Bilbo Baggins as he sets out in the company of the dashing Prince Oakenshield and a company of dwarves. There is a whole bunch of awesome battles, mythical creatures, conquering of fears, inter-species cooperation, and the reclaiming of one home land. There might just be a dragon in the mix too. Essentially, it is the most awesome fantasy series ever released... and I like it better than The Lord of The Rings. Feel free to disagree in the comments ;)
I want this set SO BADLY and I already own the regular 'cardboard' version from Amazon. This Steelbook version is not only an amazing price, it is so darn gorgeous. For me, it would be a collector's item... something I will practically own forever.
While this sale is on for a while, I expect stock to drop rather quickly.
(Expiry: 30th January 2016)