Our USA neighbors are celebrating Memorial Day, so Lands's End is having a huge sale! With a 50% off of swimsuits, and 30% off of everything else sale, it makes it a tempting sale for sure. There is also a clearance section up to 60% off, so you will want to head over there as well. Lands' End ships to Canada, and shows you exactly what you will pay for all shipping, customs and duty when you check out. This makes it very easy to shop across the border! Especially when they are charging you in Canadian currency!
To get in on this Memorial Day sale, you will have to use a code & pin that you enter in at checkout. The code is: STARS. The pin is: 9900.
As an example of shipping and additional charges, here is what I will be charged on a swimsuit tank top that was regularly priced at $81 but was on sale for $44.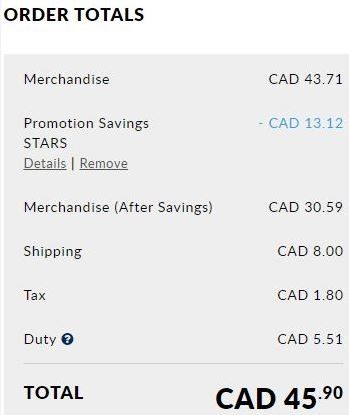 There are other areas you will want to browse around besides swimsuits, here are the links for that:
Shipping will vary from $8 and up, and of course as mentioned, shipping tax (GST) and Duty will be charged.
(Deal expiry: May 30, 2016)