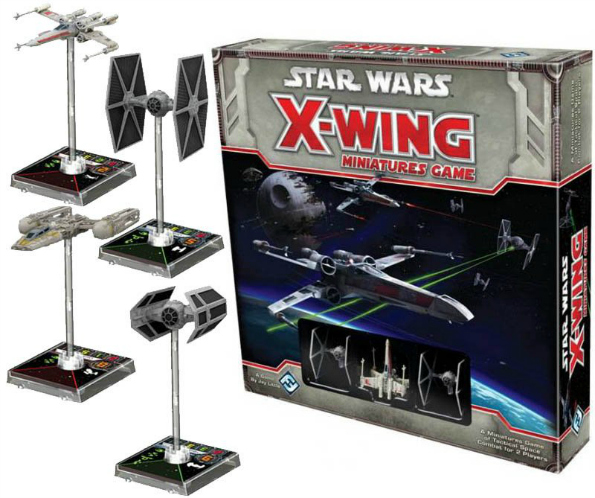 I just went to Star Wars last night and it renewed my love for TIE Fighters and droids. Chapters Indigo has a pretty cool Star Wars themed game on sale right now that we have to mention: the Star Wars X Wing Miniatures Game Core Set is on sale from $49.95 down to only $25.
To get this to your home, you can take your pick of extra discounts. First, buy just this and checkout using any other medium besides Visa Checkout to get free shipping on just the game. If you checkout via Visa Checkout, then an extra 10% discount will be taken off your cart and the game will only cost $22.50. You will then need a filler item if you want free shipping as the Visa Checkout discount brings your cost below the minimum for free shipping. Makes sense? 
I had never heard of this game before, so I checked out a few websites. The game is designed for two players to battle head on - sort of like Battleship for head on play but way different.
This is a tactical space combat game where you build your squadron from 13 ship cards and five upgrade cards. There are also three painted miniatures included with the game: one X-wing and two TIE fighters. After building your fleet, you try to destroy the other guys' squadron. The rules are supposed to be straight forward for easy game play.
I think this set - at this price - is pretty much worth it for just the three detailed miniatures that you will get. The rest of the game and game-play is a bonus. Miniatures in and of themselves aren't cheap so this is a pretty great deal. I think the game sounds awesome. It would make an excellent evening in after having watched the new Star Wars movie.
On Amazon.com, the game has garnered a 4.6/5 star rating with nearly 300 reviews. As for price comparisons, the game is currently $67.71 by Marketplace resellers on Amazon and it is $29.98 USD at Amazon.com. Our currency sucks against the USD right now, so undercutting this price before currency conversion is pretty awesome. This is one game you want to pick up.
(Expiry: Unknown)