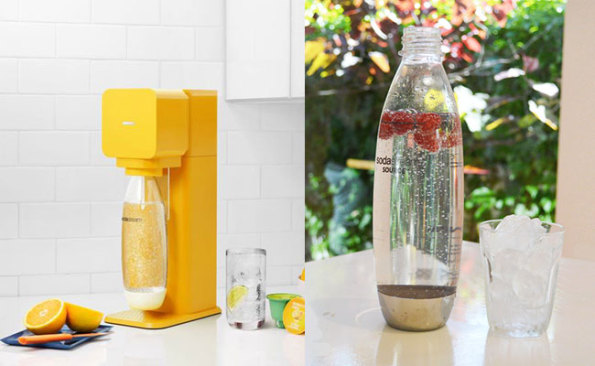 Sodastream Canada has a cute little Black Friday offer. If you have been on the hunt for a machine to carbonate water, then here you have it. Sodastream.ca has their Play Yellow Sparkling Water Machine on sale for 50% off during their Black Friday event, which means you will pay just $49.99 instead of $99.99. You will also get free shipping when you spend $150 and two free Crystal Light Lemonades. I would think that it would even make a fabulous Christmas giftfor somebody, wouldn't it?
I have wanted a Sodastream machine for quite some time. I am always entering contests trying to win one because I don't want to spend $100 to make sparkling water, but with this Black Friday discount at SodaStream.ca I can now say I am a proud owner of a sparkling water machine. Who wants to come over to enjoy some flavoured sparkling water?! This is the best price around on this Sodastream Play. Actually it is the best price I have seen, period. So why are you hesitating to just spend $49.99 on this adorable kitchen item?
Here is a look at what this same machine is selling for at other Canadian retailers:
$120 @ Costco.ca
$100 @ Shop.ca
$100 @ HomeHardware.ca
$100 @ CanadianTire.ca
$100 @ Amazon.ca
$80 @ Walmart.ca
So as you can tell, spending $49.99 on this Sodastream Play machine is going to be your best bet by far. The Play is SodaStream's newest and easiest sparkling water maker. This particular one is even in a vibrant yellow colour which is sure to add some happiness to your kitchen. This offer includes the Play Colour Sparkling Water Maker, 1 60 Litre Licensed Carbonator, 1L Colour Carbonating Bottle, your two free gifts and free shipping. There are even some free recipes on Sodastream.ca that you can make use of while getting to know your new machine.
Sodastream.ca is throwing in free shipping on all orders over $150. Otherwise your shipping will be estimated at the check out process. It also comes with "two free gifts" which seem to be the Crystal Light Lemonade to use with the machine to make your ordinary water into sparkling lemonade. That actually sounds quite delicious in my opinion. There are other flavours too of course.
(Expiry: 29th November 2015)