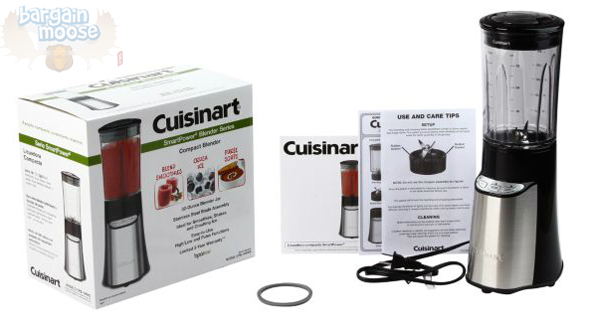 *** BUMP: Back at the low price again! ***
I spotted a great price on this Cuisinart CPB-100WS Stainless Steel Compact Portable Blender over at Newegg Canada. The original price on it was $99.99, but you can grab it for only $39.99 plus $4.99 shipping just now. That's about 60% discount. :)
The final price is then $44.98 plus taxes, including shipping. Or, if you are a member of Newegg Premier, you'd get shipping for free.
In price comparing, I cannot see this exact Cuisinart model for sale anywhere else online in Canada. So, I'll have to try a different tack in carrying out the price comparison. There's a similar Cuisinart one here going for $80 on Amazon and though it doesn't state the model number, I think it may be the same one. Another similar one is going for $79.99 here on Kitchenstuffplus. This one is $80 on Bedbathandbeyond. Based upon those price comparisons of similar models from the same brand, we can see that the Newegg price is pretty sweet.
It's coming up to the time of year when people start thinking about improving their levels of fitness, diet and overall well-being, getting fighting fit for summer. If you're thinking along the same lines, it could be a good idea to take advantage of this blender deal now.
I know that if I was to get this Cuisinart blender, I'd probably go mad blending everything I could think of for a month or two… then grow tired of it. I do love blending things and subsequently eating or drinking them. But the part I don't enjoy is the washing up – who does!?
How about you? Do you have a blender? What brand is it and what is your favourite thing to blend?