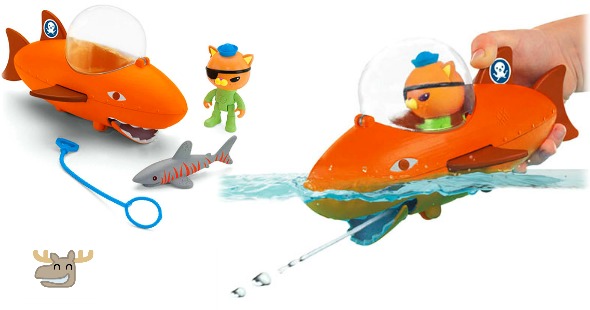 So many of my friends' kids are obsessed with Octonauts. Now your little one can bring the TV show to life with this clearance sale from Walmart Canada. While quantities are available, you can snag the Octonauts Gup Vehicle and Kwazii Figure for just $10 instead of the original price which was $19.94. That is about 50% off. Walmart Canada has a few different shipping options available.
Believe it or not, I paid full price for this toy about two months ago for my son. He will be three in February and he was bored of his plain old bath toys, so I bought him this Octonauts Gup Vehicle and Kwazii Figure among other toys. I thought $20 wasn't bad for a nifty toy like this, but seeing it at $10 tempts me to purchase another just as back up. My son literally plays with this one toy during his entire bath. 
Within minutes of having this toy out of the box my son had learned how to open and close the pilot pit to take Kwazii in and out. Since then Kwazii has driven a pirate ship, a monster truck, and a few Playmobil horses. He did end up in the bath tub with his Gup vehicle, and that is now where he stays. My son puts the vehicle and figure underwater, then he can press the shark fins on the vehicle to squirt water. Once he discovered that he is able to do that, I never leave the bathroom without being soaked with water. He has a blast with this toy, and I definitely recommend it to anyone who has a little boy that loves bath time. This would even make a fabulous Christmas gift to add to any child's toy collection. I feel that this toy is a wonderful quality and it will last a long time. My son is not gentle on his toys and it has held up super well.
Now when it comes to shipping, you're quite a ways from getting it thrown in for free. You need to spend $50 or more at Walmart.ca to get free shipping, but you probably have a lot more Christmas shopping to do so maybe check out the clearance section and see if you can reach that minimum threshold. Otherwise, you can have this item shipped to your local Canada Post Office for free. If you live near a Walmart Canada store that offers the handy Grab & Go lockers, then that is a free option as well.
(Expiry: Unknown)