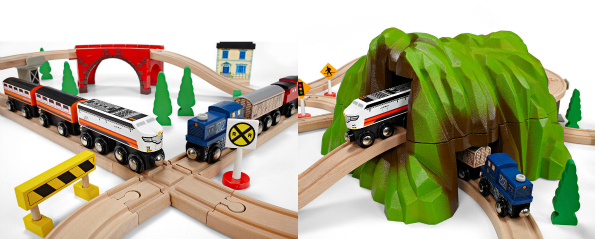 Are you looking for the ultimate railroad and train set for Christmas? Then check out the amazing deal on this Imaginarium Mountain Pass Railroad Train Set. Originally $119.99, this railroad set is now on sale for $59.87. This set is heavy so it does not qualify for free shipping. Yet, you will receive a $10 shipping credit, which will cover most if not all of the shipping charges.
This set is part of the 50% off weekend deals at Toys R Us Canada, thus the sale will end tonight. I price compared this set with Amazon Canada, where it retails for $114.95 with free shipping. This set is HUGE: it comes with 54 wooden pieces and 46 accessories totalling to 100 pieces! There are six trains that can ride the tracks through the mountain pass and over the two wooden bridges. You will receive:
6 Trains
One 2-piece Green Big Mountain
Two 2-piece bridges
6 Plastic Trestles
11 Trees
Three 3-piece Buildings
5 Signs
2 Trucks
4 Figures
5 Farm Animals
1 Traffic Barrier
21 feet of track
Essentially, this is a massive set for a fantastic price. You would be really hard-pressed to find a set of this quality and this size for any cheaper. Now, the fact that shipping is not free may be scaring you. However, I live way out on Vancouver Island and shipping to me was estimated at $13.41. There is that $10 shipping credit, so shipping comes down to just $3.41. I think that is pretty sweet for this set.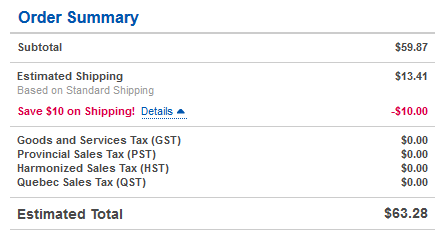 While there are mixed reviews, the majority of reviews are quite positive. People think this is a great set that can hold the interest of children for ages. As children grow older and become more dexterous, their use of the set and play level evolves. One parent said:
This is a wonderful first train set. It's big enough to keep children engaged but a real space saver if you don't have room for a big train table. The product is well made and easy to assemble. The train layout is a lot of fun with a 4 way intersection and 2-way mountain pass. The trains that come with it are also great quality. Great set for young train lovers.
Some people have thought this train set was a bit small in scale, but it really can be a wonderful bonus if you live in a small apartment or a small home. Sometimes you just do not have room for large toys like a full-size train set.
(Expiry: 25th October 2015)