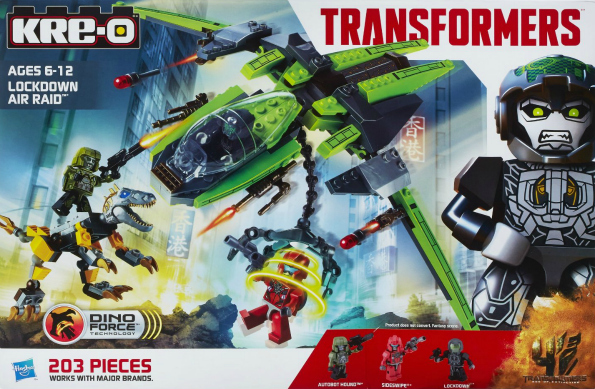 I love building sets for the countless assembly possibilities when you are putting the pieces together. If your child loves building sets and loves Transformers, then pick up the KRE-O Transformers Age of Extinction Lockdown Air Raid Set. Originally $29.93, this set is on sale for just $15. Choose free shipping to your local Canada Post location or grab & go locker (GTA). There are a few other awesome 50% off deals on Transformers toys - see below.
This 203-piece set builds two super cool toys: a jet with a magnetic claw and moving wings AND a raging dino with powerful claws and a chomping jaw. The set comes with three Kreon figures for working with the Transformers or fighting against the Transformers. It is your world so you choose! The set includes the following Kreon figures:
Lockdown
Autobot Hound with Dinoforce Technology
Sideswipe with Dinforce Technology
They have cool weapons and are ready to fight. The set is designed for ages six to 12 years of age but it can also be a great set for adult fans of Transformers. I am just tickled pink that this set, which includes over 200 pieces, is only $15. I've seen smaller sets go for more money. The same set is currently $29.99 @ Amazon Canada.
Now, KRE-O works with all major brands including LEGO, Mega Bloks, and more. That means your child can mix and match pieces when they get tired of playing with the jet and dino-bot. I like toys that play well with other toys.
I also wanted to point out some other awesome Transformer toys on sale for 50% off right now. All Transformers Battlemasters are on sale from $19.93 down to $10 each. Choose from:
There are other great Transformers 50% off deals as well. This TRANSFORMERS  Generations FALL OF CYBERTRON Series 1 - RHINO was $29.94 and is now only $15.
This toy is even a little over 50% off. The Transformers Hero Mashers Bumblebee & Strafe Mash Packwas $39.92 and is now just $19. If the KRE-O Transformers set isn't quite what you are looking for, then maybe one of these other toy deals will do.
(Expiry: Unknown)