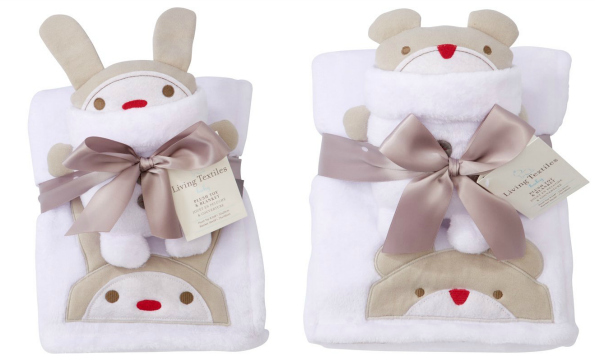 I just about died of cuteness overload when I found these Holiday Plush & Blanket Sets on sale! Originally $39.95, they are now on sale for $20 each! You can choose the Holiday Plush Bunny and Blanket or the Holiday Bear Bunny and Blanket. Each comes with an adorable plush and matching blanket. Best of all, you will get free shipping on any order with no minimum.
These sets are so cute I just want to buy one of each! Little kids will love these gift sets as each one comes with a plush and then a blanket that has a peek-a-boo applique design for each animal: the bear or the bunny. The blankets are made of super soft velour that will have your children all cosy warm.
The plush is about 8.5" tall and the blanket measures 30" by 39". These are not quite as big as a usual throw blanket because they are made for wee-ones who don't need as much blanket for full coverage.
These would make amazing Christmas gifts as well. You could give this to your child on their first Christmas. You could gift it to a family expecting a new child. You could also save this for the next baby shower you are invited to.
Overall, you would be hard pressed to find a cuter set at such a great price. I collect plush and the back of the love seat in my living room is covered in them. I just can't help wanting to snuggle all that cuteness! This set is super adorable and just perfect for a child of either gender. The whites and browns are quite gender neutral so this would even make a great gift if you do not know the gender of the child you or someone else is about to have.
With the free shipping promo currently on, now is the best time to buy these plush and blanket sets as they would usually fall beneath the free shipping minimum.
(Expiry: Unknown)