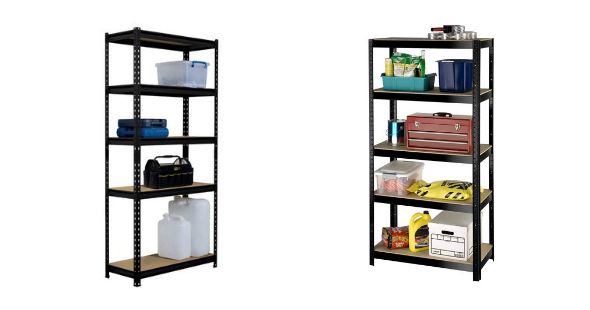 Oh my goodness. I'm going to buy 4 or 5 of these and have them shipped to my house, addressed to my husband. Included will be a note that reads, simply, "Re: Garage". Is that too subtle? We have a 2-car garage that is currently storing one car and (approximately) one tonne of... everything else. If you can sympathize, you need to jump on this deal from Walmart.ca! We were looking at shelving units like these earlier in the year and even the plastic ones weren't this price.
This heavy-duty steel unit was originally $59.98 but is clearance priced at Walmart.ca, right now, for just $29.99! The in-store price is still listed as $59.98 so you must buy online to take advantage these great savings.
This is the second time in as many days that I've been pleasantly surprised to see a large or heavy item that did not have extra shipping fees added upon checkout. I popped two of these units in my cart and, as my order was over the $50 threshold, my shipping was free. No mention of an oversize/overweight fee. Bonus! Though, you can also have this item shipped to your local Canada Post Office or Walmart Grab & Go Locker for free with no minimum purchase.
Now, for the nitty-gritty. At 6 feet tall, with five sturdy shelves, one of these units will store plenty of stuff. I was careful to check the weight capacity of the individual shelves as I think these would be great for storing our off-season tires. Each tier is able to hold up to 200 pounds; the unit has a total limit if 1000 lbs. Sounds perfect! Also perfect: the description states that assembly is easy as there are no nuts and bolts. I'm not sure how that works (slotted design, perhaps) but I'm all for it.
I did some further shopping around and found that, even compared to near-identical items elsewhere on Walmart's website, this is an incredible price! They have another 5-tier Metal Shelf unit made of the same material (cold rolled steel), also with particle board shelves, with similar dimensions (with the higher-priced unit being 4 inches wider and having 4 extra inches in depth) selling for $79.98! Comparable units at the home improvement retailers were also upwards of $100 (or more).
These 5-Tier Metal Shelves from Walmart.ca are a sturdy, inexpensive storage solution. Put a couple in the garage for gardening equipment, off-season toys, sports equipment, car cleaning and maintenance products, tools... the list is endless. They would also be great in a storage room or unfinished basement for overflow of general household necessities.
As mentioned, this is a clearance item so get them before they're gone!
(Expires: Unknown)