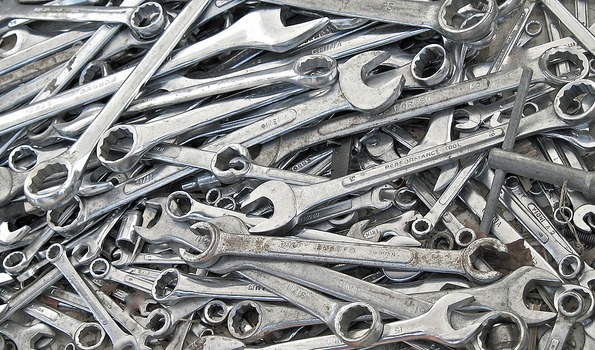 Quick Bargainmoosers, the 5 drawer Tool Tower with Bulk Storage just dropped in price at Walmart Canada. This large tool cabinet was $80 but has now dropped to only $48. This deal will probably not stay in stock long!
My husband's tools are a wreck in the basement. He has a bench, and few shelves and several tool boxes, but good luck finding anything. When we first got together, I had my own set of screwdrivers. I tried for a long time to keep them separated so I could do basic repairs around the house. I have had to let go of that. I have no idea where those screwdrivers are now.
If you are in a similar spot, you should grab this tool tower today from Walmart. This tool bench includes five separate drawers to organize all of your smaller tools, screws, and other items to repair your home. This also has a bulk storage bin to keep larger items such as a power drill. This storage container is 22 inches across and 36 inches tall once assembled.
Around the web, tool storage drawers are much more expensive than this tower. The most inexpensive tool storage I could find similar in size was at Home Depot Canada, the International 5 drawer Combo with Storage Compartment for $99.  At Sears.ca I found a Toolmaster 5-Drawer Tool Chest Combo that is retailing for $149.99. Over at Canadian Tire, the cheapest tower I could find that was similar in size is a Mastercraft for $269.99.
I would not expect this tool storage box to hold everything in you garage. It will do the trick for an at home enthusiast who needs to organize a bit. The reviews all seem to reflect this sentiment. Here is one happy reviewer who is using this tool tower.
Tool cabinet was everything I expected. I am not using it as my main storage but as a secondary storage unit for misc. tools and it works fine. Assembly was easy and instructions clear.
Here is another happy reviewer who is glad they bought this tool tower:
It is not a professional toolbox, but regardless it does the job of keeping your tools organized just the same as a more expensive one! I am so glad I bought it...now all my tools are in one place and easy to find! It was so worth it for the price.
I do not expect this price to last long Bargainmoosers, so grab yours quick if you want one. Shipping is free if you spend $50. You can also have it shipped to a Canadian Post location for free, if you wish. Save yourself the hassle and throw a box of Oreos in your cart as a filler to qualify for free shipping. These Oreos were $3.97 but are now $2.98. Your tool chest and Oreos will be headed to your house soon.
Image Credit: John Dyer
(Expiry: Unknown)