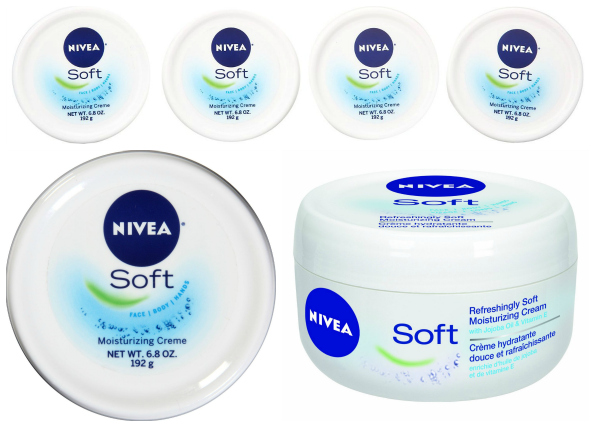 Stock up on beauty products this winter to keep your skin nice and moisturized. Amazon Canada has a really nice deal on Nivea Body Soft Moisturizing Cream - Jar 200ml, Pack of 4. Originally $40.92, this four-pack of 200ml jars (for a total of 800ml) is now on sale for $17.65. That works out to approximately $4.41 per jar, which is the cheapest I have seen anywhere. Receive free shipping with Amazon Prime or on orders of $25 or more.
Let us get started with price comparisons. Walmart Canada has this product on rollback right now. Originally $8.97 per jar, they are currently on sale for $6.97 per jar. That brings your total for four jars up to $27.88 even on rollback, which is still much higher than the price at Amazon Canada. Well.ca sells these for $8.49 per jar ($33.96 for four) and London Drugs sells the same cream for $12.99 per jar ($51.95 for four). There is no doubt that Amazon Canada's deal is the best.
The first face cream I ever tried was Nivea and it came in a dark blue pot at the time. It was cold and thick and pretty decadent for a teenage girl looking to give her skin a pep talk. It is one of the few things I remember from my small town drugstore. I don't remember how well it worked but a lot of people seem pretty happy with it wherever I looked. At Amazon, it rates 4.9/5 stars and has similarly impressive ratings elsewhere.
One reviewer at Walmart said:
I generally use expensive creams but one day I bought this in the drugstore and was amazed by its moisturizing power. I've tried many, many creams, and find this number 1 among economic choices. Great cream.
I also read a reviewer where one woman put it on her curly hair to control frizz. Another woman goes through it so far she wants them to sell it in one-litre bottles. She uses it on her entire body for soft, supple skin. I would probably do the same as well; my entire skin deserves the delicacy of a face cream.
This is a great deal and you can easily toss a few extra things into your cart to reach that free shipping minimum.
(Expiry: Unknown)