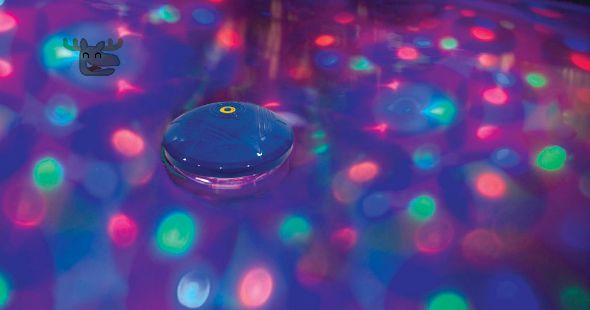 *Bump! This item is back at an even lower price*
Do you have a pool or a large bath tub? Then you will definitely want to check out this Game 3555 Underwater Light Show that is currently on sale over at Amazon.ca. This light show was originally $44.79, but right at this moment you can snag it for just $25.16. That even includes shipping.
The Game Underwater Light Show will project light and color onto the bottom and sides of a swimming pool, bath tub, etc. This is fabulous for outdoor pools if you are having people over or if you like to swim with the hubby at night. How romantic? A beautiful lit up water scene. Not to mention that this Game Underwater Light Show won't cost you very much right now. If you know someone with a pool, you can get them this excellent Christmas gift for just $25.16 which is 44% off the regular price.
So are you ready to engulf your entire pool in a dramatic series of light shows? There are 7 different options for colours and patterns - you can play around and choose your favourite once you receive the item. If you have an extremely large pool, reviews suggest that you may want to invest in two or three of these Game Underwater Light Shows. They each require 3 AA batteries, which are included. They will even automatically shut off after an hour to conserve batteries. I wish these were discounted at the beginning of the summer, my family has so many pool parties and these would have been a fabulous addition to "wow" the guests for sure.
The Underwater Light Show will float on the surface of the water, so you don't even have to go diving every time you want to turn it back on or change the light show features. Pretty sweet, right? Reviews say that this item is not too big to enjoy in the bath tub with a glass of wine either. Reviews also say that the item was able to be used in a hot tub, which I didn't think it would be suitable for. I would be concerned with the high temperatures damaging the product, but it seems to hold up well considering. Awesome.
Amazon.ca even throws in totally free shipping when you spend over $25, so you won't have to worry about paying anything extra for shipping and handling charges. Pretty cool, right?
(Expiry: Unknown)