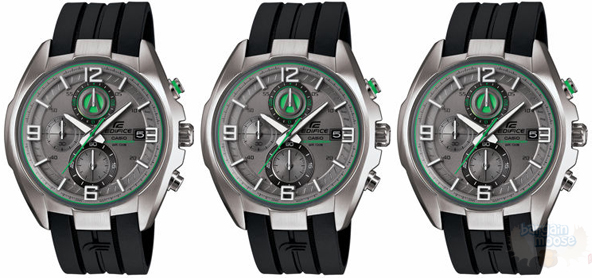 If you or your partner are on the lookout for a new watch, consider this pretty hot deal on the Casio Edifice Chronograph Men's Watch on special offer at Costco Canada just now. Originally priced at $109.99, they've knocked $40 off this price bringing it down to only $69.99. Plus, you will get free shipping and handling too!
The Casio Edifice Chronograph Men's Watch EFR-529-7A is a grey and green finish as pictured above, so it may not be to everyone's taste. Personally, I quite like the colour. Regardless of the fact that this is a man's watch, I'd wear this myself.
The Casio watch has only got 5 reviews on the Costco site, but it scores a total rating of 4.5/5 on those, with comments such as:
Good weight, simple - no unneeded bells and whistles, comfortable band ... looks and feels great, fantastic price.
One commenter was irked that the watch didn't come with any instructions. I don't think this is a big deal… watches are extremely to operate. And if all else fails, just google for help.
To price compare: while this exact watch isn't sold at many other retialers, I did spot it for $107 @ PC-Canada, $124 @ FrontierPC and $115 @ DirectDial. The Costco price comes in well below the competition.
Believe it or not, I started my Christmas shopping last week! I know it's only October, but when you spot great bargains on various items, it's good to buy them and start putting them away for Christmas. Out of the list of around 14 family members I have to buy for, I've already got pressies for four of them. I'm being very well-organised this year! I bring this up because this Casio watch is just the kind of deal which could be good to buy as a Christmas pressie. Getting it now, putting it away until December… it's a great idea to save money these holidays.
(Expiry 26th October 2014)