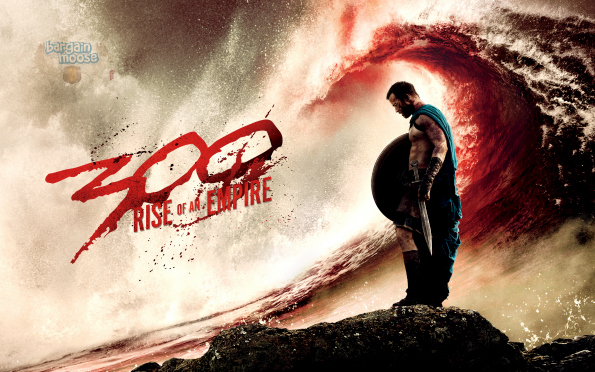 I am incredibly impressed with this deal and the deal on The LEGO Movie. Amazon Canada has discounted 300: Rise of an Empire (DVD) from $13.68 down to $2.25 for the DVD version.
You are purchasing the 2-Disc Special Edition version on DVD. I sort of expect this sort of price drop on older movies - way older movies - but this movie was just released last year. As it was released in June 2014, the movie is just over a year old. For less than half the cost of your next Starbucks latte, you can pick up a new movie for your collection.
This is the second 300 movie, following the 2006 release of 300. I have never seen either as they are quite bloody and violent movies, which I am not into very much. However, they are well thought of by those who enjoy that sort of thing. Over 40 reviewers give 300: Rise of an Empire an overall rating of 4.5 stars.
I price compared to ensure you are getting a good deal but it was hardly necessary. This same DVD set retails for:
$13.88 @ Walmart Canada
$31.98 @ Staples Canada
$28.25 @ Sears Canada
$16.99 @ best Buy Canada
Reviews on sites like IMDB and Rotten Tomatoes are mixed. Some view the plot line as a mere excuse just to be gory. The critics' consensus on Rotten Tomatoes is:
It's bound to hit some viewers as an empty exercise in stylish gore, and despite a gonzo starring performance from Eva Green, 300: Rise of an Empire is a step down from its predecessor.
However, I am not sure I put much stock in their ratings as they have been rather harsh on some of my favourite movies and rather praising of movies I thought were junk. What really matters is whether YOU like the movie - who cares about the critics.
For only $2.25, you can add this movie to your collection and have something new to watch on Saturday night. If you do not like the movie, then merely give it away or drop it off at your local used DVD store. Either way, you will have enjoyed a couple hours of entertainment for a little over a toonie.
Receive free shipping on orders of $25 or more.
(Expiry: Unknown)