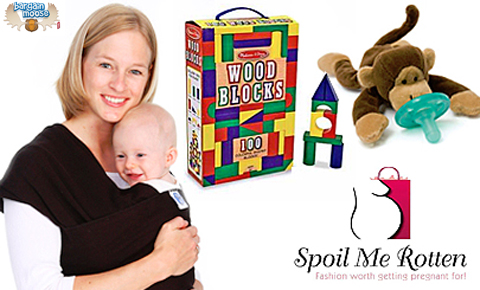 Teamsave is another one of the group buy websites which sometimes has great deals, like Groupon and Livingsocial. Today, they have a sweet deal from Spoil Me Rotten Maternity. You can purchase $25 of account credit for only $10!
But you can make the deal even sweeter. I normally don't use "referrals" but I created an account for Bargainmoose in this case, because it will save you some money. If you use the above link to Teamsave, you will receive $5 account credit for free. Then you can purchase the deal for only $5 instead of $10! So in summation, you're getting $25 credit at spoilmerottenmaternity.com for only $5.
Expires 1 year from date of issue. Not valid with any other offer; Cannot carry over balance; May redeem 1 coupon per order; Shipping is not included; No special order items; Coupons will be issued within 24 hours of the deal ending; Valid at spoilmerottenmaternity.com only.
At the spoilmerottenmaternity store, they sell lots of items from bumbos to bath toys. If you are pregnant or have just had a little one, this would be an excellent deal for you to take advantage of.
As I write this deal, there are only 14 hours left to take advantage of it. Bargainmoose email subscribers please read this post.
Thanks to Sabrina from DailyGTAdeals for this one!
UPDATE: If you land on the teamsave page and it redirects you to another city, you might need to navigate to the Toronto page to get this deal.