Hot deal on a 22" Acer computer monitor! As it is Labor Day, Future Shop Canada is giving an extra 15% discount on the Acer P221WD when you put it into your cart. When you click through, you'll see the Acer screen priced at $219.99, but it drops to $186.99 when you go to buy it. In my opinion, that's a great price for a sizable piece of screen real estate!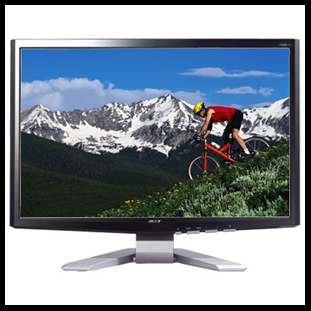 Here's a brief specification on this flat screen LCD monitor:
Monitor Type: TFT LCD
Brightness: 300cd/m2
Contrast Ratio: 2500:1
Response Time: 5ms
Warranty: 3 Years Parts & Labour
Looking at the above, that's a good response rate, so this Acer screen is perfect for anything you want to do on your PC, whether that's watching movies, gaming, or just working. A 3 year warranty is a bonus too!
I changed over to a flat screen monitor a few years ago, and they really are great compared to the old CRT ones!! I upgraded from a 17" to a 22" and the size difference was amazing!!
- Anna