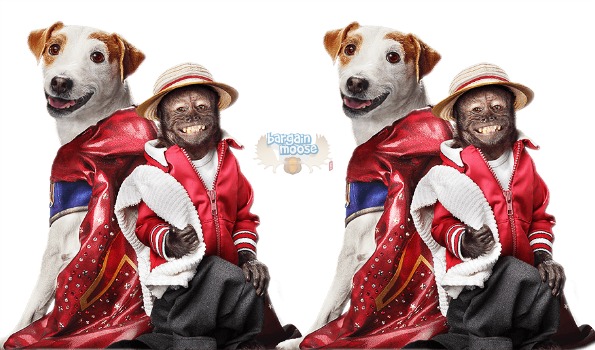 Cineplex's popular family series is offering a free screening of the move Air Bud Presents: Russell Madness. Viewings are available in select cities for both February  21st or February 28th at 11 am. Click below to receive two individualized codes and book your show times free.
Cineplex is offering a free movie screening for the whole family, yahoo! Once you request your code, Cineplex should e-mail you your individualized coupon codes immediately. Make sure you check your spam folder if you are having trouble finding the e-mail. You can also search your e-mail for Cineplex, which is what I generally do. From the e-mail, you are then directed back to Cineplex's website to reserve your seats. If you need more than two tickets, Cineplex suggests in the e-mail that you can send extra codes for seats to an alternative e-mail. I would not wait to reserve the date you prefer, as free showings generally fill up quickly.
I tried several different cities to see what was available for this movie. I had luck in both Toronto and Vancouver securing a seat for either date.  This movie will not being showing in Montreal, so my kiddo will miss out on the Russell Madness fun.
This is the premier showing for the movie Russell Madness. If you or your kids liked the movie Air Bud or Super Buddies, they should like this movie as it is from the same producers. Both are super family friendly flicks, though I have only seen Super Buddies on The Disney Channel at my daughter's insistence.
Here is a quick plot summary of Russell Madness courtesy of IMBD.
Russell Maddness tells the story of Russell, an undersized but big-hearted terrier. Russell gets taken in by The Ferraros, a family desperate to revive their grandfather's pro wrestling arena. With help from his monkey coach named Hunk, Russell rockets to the top of the pro wrestling world . When a dishonest promoter double-crosses the Ferraros, Russell will discover that the strongest tag team is family.
This special showing is part of Cineplex's popular Family Favourties series. If you are not familiar, Cineplex offers family friendly shows every Saturday for the low price of $2.99 per ticket. While films are not generally new releases like this flick, they do show some great titles such as How To Train Your Dragon 2, Fantastic Mr. Fox and Hop.
Free movie showings generally fill up quickly. If you want a seat, I would suggest grabbing your code and reserving now. This looks like it is going to be a pretty cute family flick, and who can argue with free?
(Expiry: Unknown)