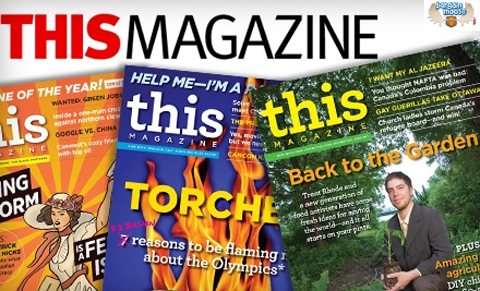 Today's deal from Groupon.com (in Toronto) is a subscription offer for "This Magazine." But you don't have to be in Toronto, you can take advantage of the deal from anywhere in Canada.
There are 6 issues over the year, so this works out at only $2.17 per issue! Though I have never read this magazine myself, after a google image search I think it is normally $5.95 per issue (please correct me if I am wrong).
Details:
Expires Dec 10, 2011. Must activate subscription by 12/10, subscription expires 1 year from activation date. New subscribers only. Not valid with other offers.
Do you read "This Magazine"? What do you think of it?
P.S. There are only 17 hours left to take advantage of this deal, from the time I write this post.