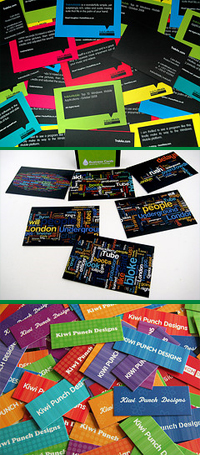 While Moo.com is not actually a Canadian site, this great freebie is available to us here in Canada, and I think it's worth letting you guys know about it. I've seen this free offer once or twice in the past, and it is usually expired quite fast, as I reckon lots of people must order from them. Moo.com is a US based site, which ships worldwide.
Click here to order your 10 free business cards from Moo.com.
I like the idea of them giving away 10 free personalized business cards, and I especially like the free shipping! I have ordered mine, and if I like them, I will definitely be spending some money on Moo.com.
One of the reasons I like their site – you don't have to order X amount of one specific card. You can choose different images and designs for every single card you order! I think that's quite a nice touch – pulling a few business cards out of your pocket, and they're all a slightly different design. For example, you could order a batch of 100 cards, 10 different designs, 10 of each.
If you want some inspiration for designing your free business cards, check out the Moo blog. There are some great ideas in there. I like the suggestion of making a batch of different colored cards, so when you pull out a handful, you can get the person to choose their favorite color.If you run your very own blog, consider using Wordle to create your business cards – I think they look stunning and convey exactly what your blog is all about. Here's a cool Wordle screenshot from the front page of BargainMoose right now. That would look brilliant on the front of some business cards!
They even share promo codes on their blog, so if you're making an order, you might be able to save yourself a few dollars too. And don't forget to use Dealguild for up to 9.75% cashback if you do end up making an order.
UPDATE March 16th 2009 - I have received the samples that I ordered from Moo. They are excellent quality cards! the card is very thick and they have a nice finish. I will definitely consider buying from these guys the next time I am ordering business cards. I just wished I had used the wordle idea for my samples, but I had already placed my order before I thought of it!
P.S. Use coupon code K7ZA25 for a 15% discount until March 20th 2009.