ICI Paints: Printable Coupon For 33% Off (Or Buy 2 Get 1 Free)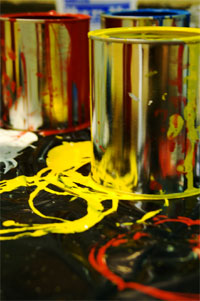 If you are feeling like sprucing up that bedroom, or touching up the decor in the hall, perhaps you need a bargain deal on the paint!
If you buy 2 cans of paint at ICI Paints, they will give you the 3rd for free! Now, if you don't need such large quantites, then perhaps you'd prefer a 33% discount. That's what this free printable coupon will get you!
Coupon expires August 23rd 2009.
Just print out the free coupon and take it with you to one of the stores. No excuses now! Time for some DIY!
I've just moved into a new house and the spare bedroom (or the junk room as I have dubbed it) is in severe need of a touch of paint. But am I too lazy to do it? Yes. I'm far too busy hunting deals for you guys to be painting my spare room!
Thanks to ellievanhoutte.