Up To 90% Off Wilton Baking Pans & More @ Amazon.ca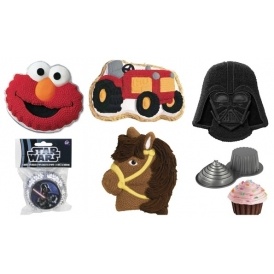 I just love baking with my kiddo, baking in general actually. If you also enjoy this hobby, you may want to check out the wide variety of Wilton baking pans and accessories for up to 90% off at Amazon.ca right now.
Wilton has quality baking essentials and more. You can get everything from cupcake papers to Star Wars cake moulds by Wilton for up to 90% off at Amazon.ca. I was just telling my friend that I needed new mini muffin pans and here they are! So let's get shopping.
The very first thing that I noticed in this sale was the Wilton Star Wars Cake Pan. While the discount of 22% off is not all that steep, this is a wonderful item. For just $27.35 you can have the cake mould you need to make the most stellar birthday cake for your hubby—or your kiddo.
I bake frequently whether it be dog treats or simple peanut butter cookies for my fam. I do rather large batches, so cooling racks are always necessary. Get your hands on the Wilton Excelle Elite 3 Tier Cooling Rack which is on sale for $13.99 down from $20.99.
Here are some more baking essentials available at discounted prices right now:
Amazon Canada offers free shipping on orders over $25, so your best bet is to gather up $25 of Wilton products to purchase. Perhaps a friend or your mom want to order something as well?
(Expiry: Unknown)