Well.ca Father's Day Gift Ideas (Free Shipping)!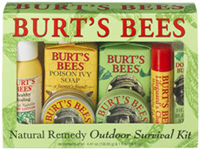 For those of you not in the know, Father's Day will be here soon! This year, it is scheduled for the 21st of June 2009, which isn't really that far away. If you're struggling to think of a nice gift for your dad (other than socks!) you could check out the Father's Day gift page on Well.ca. Canada's online drugstore. They have listed some great Fathers Day gift ideas, from plain old aftershave, to lovely gift sets.
There are some quite unique Father's Day gifts in there, which your dad might like to receive! I like the look of the "Burt's Bees Natural Remedy Outdoor Survival Kit" for $19.59 and free shipping (pictured top right). It contains washes, salves, lotions, soap, ointment, and a few things for dad to use. The "Badger Balm Sore Muscle Gift Set" sounds like a nice gift too (pictured left). It is priced at $28.49, a wee bit more expensive, but also with free shipping. It contains various rubs for soothing aches and pains in an aging body!
As you can see, Well.ca do free shipping Canada wide – which is brilliant! There is no minimum order value either.