Well.ca Overstock Sale: 75% Off Uncle Lee's Organic Whole Leaf Tea Bamboo Gift Box (+ Many More Items On Sale!)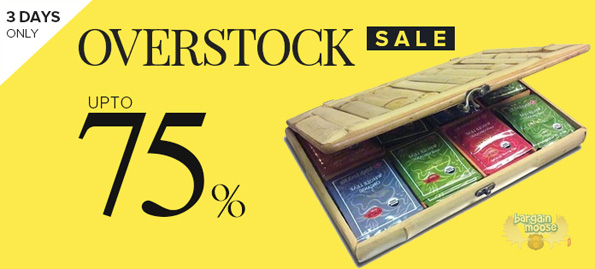 Father's Day is this weekend but as the saying goes: better late than never!  If you have yet to find a worthy gift, then maybe Uncle Lee's organic whole leaf tea bamboo gift box may put a smile on your Dad's face, albeit a little late. Even better is that Well.ca is currently offering it for 75% off at just $7.50 (reg. $29.99) as part of their Overstock Sale.
It comes with a total of 40 tea bags from the following varieties: Chinese white tea, Dragon Well green tea, green tea, Jasmine green tea, Japanese Sencha, Oolong and Oolong with ginseng. It also has remarkably positive reviews such as:
I LOVE this tea! You can tell its high quality as the leaves are full leaves and not tiny pieces like others teas. The flavor is nice and strong as well. I will be buying it again for sure.
Price comparing this gift box, I found that Staples has it at its full price of $29.99. Although your gift will undoubtedly arrive after Father's Day, it might be a good idea to give him a card in the meantime with the promise of this arriving shortly.
Since shipping is only free on orders over $25, I also suggest you have a look at the other items that have received a discount with the Overstock Sale. There is a good share of them, but always make sure to price compare with other major stores like Walmart and Amazon. If you're in the market for a stroller, then I also spotted the Quinny Buzz stroller for just $349.97 (reg. $499.96). Amazon.ca has this popular stroller at $450 and Toys R Us has a red version of it at its full price of $499.99.
In light of today being Friday the 13th, Well.ca is also offering an additional 13% off site wide, but only when you enter this coupon code at checkout: FRIDAY13TH. Keep in mind that this code expires at the end of the day, but the Overstock sale will last the entire weekend. If you happen to miss this code and it's your first time shopping at their site, then you can also use our Bargainmoose exclusive Well.ca coupon code to get $10 off orders over $40 instead.
(Expiry: 15th June 2014)