Well.ca: 25% Off Method Home Cleaning Products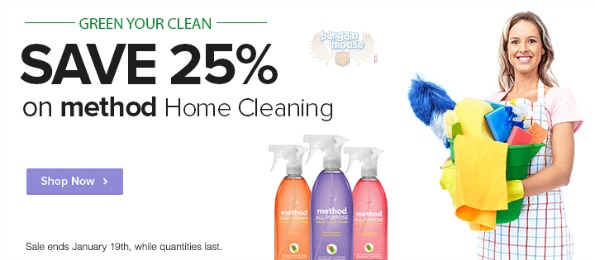 What I would consider Well.ca's most popular sale is back! Get 25% off Method all natural home cleaning products for a clean and healthy house.
None of the laundry detergent or hand wash liquids are included in this sale; however, bathroom cleaner, floor cleaner, surface cleaner, and really all the cleaners are in the sale. As I exclusively use Method products for my household, I am pretty familiar with them. In fact, I am getting awfully low on our Method Dish Soap and I would love to try another scent than what we currently have. This Ginger Yuzu Method Dish Soap sounds delicious and it is on sale for $3.29 (was $4.39). It is a scent exclusive to Well.ca.
You will, of course, want to get some of your more expensive cleaners during a sale like this. The Method Squirt + Mop Hard Floor Cleaner was $7.19 and is now on sale for $5.39. I don't have it in the Ginger Yuzu scent but I do have it in Almond which smells so good!
I don't have a dishwasher (besides my husband) so I have not had a chance to try these Method Smarty Dish Plus Dishwasher Detergent Packs out yet. However, when we get a dishwasher I will most likely be buying them. They regularly cost $7.99 and are marked down to $5.99 a pack. As there are twenty-four in a bag you are only paying about twenty-five cents a load.
As always, you'll get free shipping on orders over $25 and if you are a new customer, I'll remind you about an exclusive $10 off $40 coupon located in the coupon forum.
(Expiry: 19th January 2014)