Well.ca: 20% Off Select Halloween Supplies & Costumes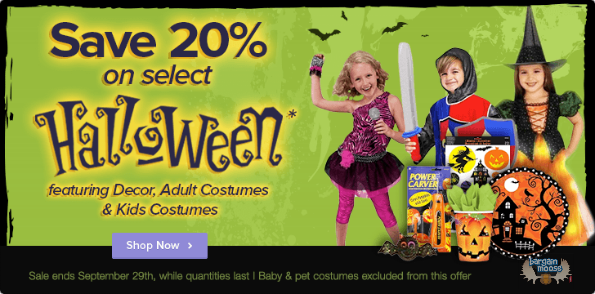 Well.ca is offering 20% off select Halloween supplies and costumes this weekend.
The sale excludes baby and pet costumes.
Want to do a little interior decorating? Pick up this Halloween Door Cover - Dripping Blood Gore for only $5.58, originally $6.98. You could also pick up a pack of Danson Bloody Severed Fingers to leave laying around to frighten squeamish kids. Originally $5.18, they are now $4.14. This Skeleton Hand Print Wall Grabber would also be a cool idea. I would love to see them climbing up a wall onto the ceiling (now $5.18 | Now $6.48).

If you are looking for costumes, they do have a bunch of them on sale. I like the Monster High's Frankie Stein Child Costume that was $31.99 and is now $25.59. I like how Monster High does not treat girls as 'unicorn and rainbows' sort of gals and appreciates that girls can like a bit of horror too.
Enjoy free shipping on all orders of $25+
(Expiry: 29th September 2013)
Oh, you've found my pot of gold!