The Body Shop Canada:Entire Store B3G2 Free, B2G1 Free, B1G1 50% Off & Free Shipping 2 Days Only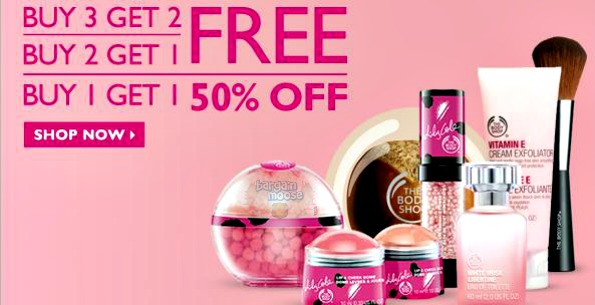 From now until 2nd July, The Body Shop Canada will have their entire store on sale for buy 3 get 2 free, buy 2 get 1 free and buy 1 get 1 for 50% off.  This is probably my favorite sale that they have on because I find you get the most value for your money.
There is always some fine print for these deals:
The Buy 3 Get 2 Free, Buy 2 Get 1 Free, Buy 1 Get 1 50% Off Offer (the "Offer") entitles Customers to (a) purchase any three products and receive two products of equal or lesser value for free or (b) purchase any two products and receive one product of equal or lesser value for free or (c) purchase any one product and receive one product of equal or lesser value at 50% off. Offer valid from June 11-July 2, 2012 online only at www.thebodyshop.ca. Offer excludes: Brazil Nut & Satsuma Body Butter,mini items, gift cards, pre-made gifts, charity items and LOVE YOUR BODY™ membership cards.
If you are like me and take advantage of sales like this to stock up on some of your favourites, then this is the sale to do it.  Of course I will be picking up items for myself but I also like to get gifts for people throughout the year ahead of time.  I have many friends and family that love the Body Shop so I will be buying for them as well.
Make sure to check out some of the other deals that are not included in this one like $10 body butter, mini gift cube sale, lip care bundles for $12 and more.
As an added bonus, The Body Shop is offering free shipping on all orders over $50 June 13th and June 14th only. If you are shopping after that, shipping is $5 when you spend $50 or more and  shipping is free if you spend $75 or more.
(Expiry: 2nd July 2012)