The Body Shop Canada: Valentine's Indulgence B2G1 Free, B1G1 50% Off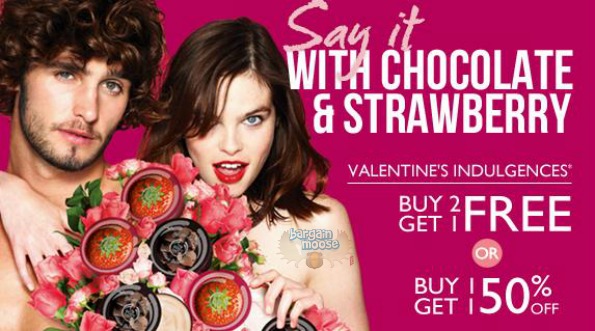 If you are looking for a Valentine's Day gift and a deal at the same time then The Body Shop Canada has the perfect offer.  They have their "buy 2 get 1 free" or "buy 1 get 1 50% off" deal back on their Valentine's Day indulgences for a limited time only.
All of the bath, body and fragrances are included in this deal. The only exclusions are the $5 shower gels of 250ml.  It has all of the regular rules like the least expensive items will be the one discounted.
This is a great event to either buy some gifts or stock up on some of your favourites. With Valentine's Day just around the corner, they have a favorite back - chocolate scented products.  I love this Chocomania body butter and always stock up on it when it comes out.  It smells so good I almost want to eat it!
The Body Shop Canada offers free shipping for orders $75 or more or $5 shipping for orders $50 or more.
(Expiry: Limited time only)