The Body Shop Canada: B3G2 Free, B2G1 Free or B1G1 50% Off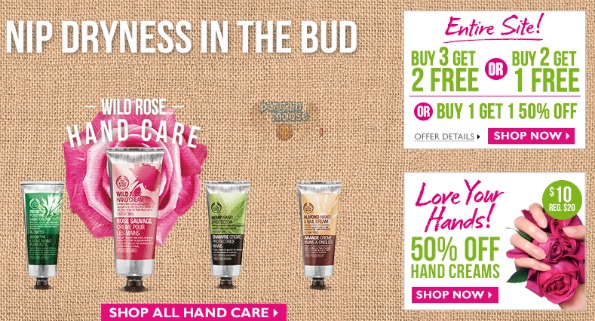 A very popular deal is back on at The Body Shop Canada and it has been a while since they offered it.  Their BOGO is back on.  When you buy 3 items you will get 2 free, when you buy 2 items you will get 1 free and when you buy 1 item you will get 1 for 50% off.
All of the regular conditions apply to this deal such as the lower priced or equal value items will be the the discounted or free items and it will not apply to Love Your Body Memberships or charitable products. It also excludes the 100ml hand creams and pre-packaged gifts. The reason it excludes the hand creams is because they are already on sale at 50% off the regular price so even if you buy some of them, you will get a great deal!
With Valentine's day around the corner, this is the perfect opportunity to grab some nice beauty products for your someone special. You will have all the way up until March 2nd to get this deal so you can actually get it a few times over if you really want to.
As always, shipping is free on orders of $75 or more, or you can pay just $5 for shipping on orders $50 or more.
(Expiry: 2nd March 2014)