Shoppers Drug Mart: Free $10 Gift Card & $10 Tim Hortons Card With $75+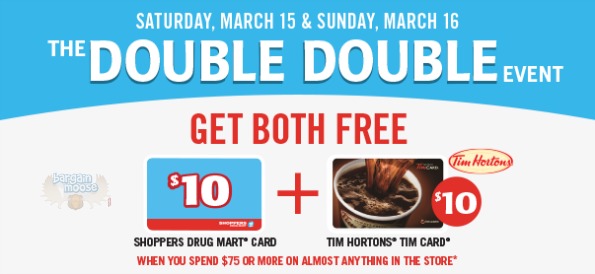 It's a Double Double weekend at Shoppers Drug Mart this weekend. When you spend $75 or more on either Saturday or Sunday, you will get a free gift card for Tim Hortons as well as Shoppers Drug Mart with your purchase.
All of the regular conditions apply to this deal. The offer excludes prescription purchases, products with codeine, insulin and select insulin products, tobacco products (where applicable), newspapers, stamps, lottery tickets, event tickets, transit tickets, electronic gift cards, prepaid phone cards and Shoppers Home Health Care locations. Other than that, you can get anything.
The best way to get the most from your money of course is to check out the sales first and use any coupons that may go with these sales.  As long as your total is the $75 minimum after you give the cashier all your coupons, you will still get your two free gift cards!
Now the Tim Hortons gift card has no expiry date, which is awesome, but the Shoppers Drug Mart gift card does.  It will expire April 6th so you will need to use it by then.  The free Shoppers Drug Mart gift cards will always have an expiry but you can use them on absolutely anything with no minimum purchase required.
(Expiry: 16th March 2014)