Shoppers Drug Mart Canada: 18,500 Bonus Points When You Spend $75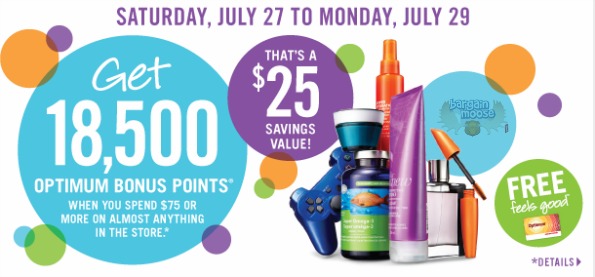 For just a few short days, you will be able to rack up your Shoppers Drug Mart points.  Until Monday, July 29th, you will get a bonus 18,500 SDM points when you spend $75 or more on almost anything you can find in your local store.
Basically, when you spend $75 or more for the next couple of days, you will earn an additional 18,500 bonus points.  That is the equivalent to earning $25 when you want to use your points or even more when they have a bonus redemption weekend.
There is some fine print for this deal:
Excludes prescription purchases, products that contain codeine, non-pointable items, tobacco products (where applicable), lottery tickets, stamps, transit tickets and passes, event tickets, gift cards, prepaid card products and Shoppers Home Healthcare® locations. Offer applies to photofinishing services that are picked up and paid for on the day of the offer only.
Other than that, you will be able to buy anything you want and have it count towards your $75 purchase.  You can even use coupons in conjunction with this offer, which is great!
I always try to take advantage of these offers because it is the fastest way to collect your points.  Even if I don't need anything at the moment, I try to buy items that I will always be needing such as diapers, wipes, canned goods or even cleaning and toiletries. These types of items don't go bad so I grab them on sale, get the extra points and then have them ready when I need them. It is a win/win situation!
(Expiry: 29th July 2013)