Sephora Canada: Formula X Press Pods Were $28 | Now $21 & Freebies With Purchase (EXPIRED)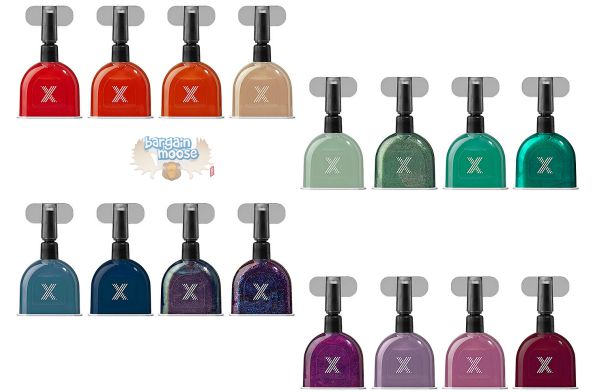 The first time you walk into a Sephora store, you feel almost hypnotized with delight - all the colours, the lights, the beauty. But, walk in on a Saturday and all you get is people pushing past you, testing out the lipstick right on their lips and super long lines. I was very excited to find out that Sephora now ships from Canada to Canada, which means no duties! They also lowered their free shipping threshold to $50. They've got a little bit of a sale section and I found a very cool product from Sephora. The Formula X press pods allow you to do one manicure per bottle so you can try out 24 different colours to find your favourite! Regularly $28, it is on sale for $21. That is less than $1 per manicure. On top of this, Sephora has a boat-load of coupon codes that will get you freebies with your order.
I love this product! I can never pick a colour and love to have a lot of choice, but hate buying a bunch of bottles of polish at $10 a pop, only to hate the colour. With this product, you are guaranteed to find a colour you like from one of the 24 polish filled pods. You'll get two coats for 10 digits (toes or fingers).
Whether you love outspoken polish or a more demure look, there is something to please everyone in this polish set. Invincible sounds great, but so does Need for Speed. Even better, this set has won awards and has no parabens, sulfates or phthalates.
There are quite a few varying reviews. Some cite the polish is too thick and difficult to squeeze from the pod. But, the ones who love it, really love it.
Tonight I applied "Perfection" and I am pleased with the polish quality. I had more than enough polish for 2 coats and the polish dried quickly and looks pretty good. Any problems in appearance are due to me struggling to get the polish out after the first few squeezes.
You might want to spend a bit more to get your free shipping and once you do, you can use one of the many coupon codes to get your free gift with purchase. I like the CHOOSE1 coupon that lets you choose from two minis for free on your $35 order. The ULTRAHD coupon is also cool, because I use the Make Up Forever HD foundation and you'll get this free on a $25+ order.
(Expiry: Unknown)