Selected Anna Sui Cosmetics/Fragrance From $4.50 @ The Bay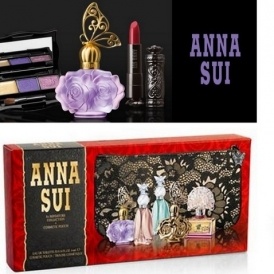 Have you ever made an almost $100 mistake? I have. I once ordered an eyeliner from Sephora. They gave me a free sample of fragrance. I immediately fell in love with it and needed to have it, so I researched it until I found it.
Only Hudson's Bay carried the Anna Sui La Nuit de Boheme Gold Edition eau de toilette and it was $88. It was a 'mistake' only in the sense I could have saved myself the money had I not bought the eyeliner in the first place.
This Anna Sui La Nuit de Boheme Gold Edition Eau de Toilette,75ml, is now on sale for $44, down from $88 and is one that I receive compliments whenever I wear it.
I am never one to spend much on fragrance, usually opting for Jovan Musk Oil, which is very inexpensive. I only buy it when it's on sale, and it's around $15 - $20. So for me to spend $88 on one bottle of fragrance is an indication of just how good the Anna Sui scent smells!
Hudson's Bay is offering a selection of Anna Sui Cosmetics, Fragrances, and more at 50% off, and prices start from only $4.50.
Anna Sui has an impressive, unique look to all of their packaging and the quality is top of the line. You will note in the link below, all sorts of great beauty finds all at 50% off, ranging from nail polish that is only $7.50, to foundation for $24.The Mini Fragrance Set With Pouch is a steal, for only $29. It was regularly priced at $58. Keep in mind those are very small sizes, 4 ml each, but will certainly be enough to allow you to sample them for long enough to know that you love them.

Shipping is free on beauty orders over $45, or over $29 if you use your HB card. Otherwise, shipping usually starts at around $7.95. Currently The Bay has an announcement on their website stating: "CANADA POST SERVICE DISRUPTIONS -During this time we have switched to an alternate home delivery courier. Please expect some delays." Sounds to me like they have all their bases covered.
(Deal expiry: Unknown.)