Marcelle Canada: 2 Products Free With $25+ Purchase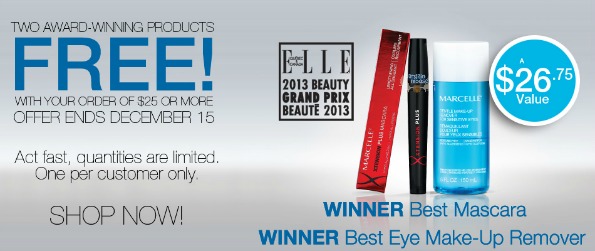 Spend $25 at Marcelle and you'll get two of their best-selling, award-winning products for free. The free products are worth $26.75, so you are getting more than what you've spent free on top of your order.
The first item you'll get free is the Xtension Plus Mascara. In black or dark brown, this mascara will curl, define and separate lashes without clumps. I am a one-mascara enthusiast. I have never been able to find a mascara I like more than the one I use, which is why getting this free with purchase is amazing. I can try the mascara out and if I don't like it, it didn't cost me a thing. If I do like, it is a win overall since I've found a new product to love and I paid nothing for it. It is award-winning, so it sounds like it could be a success. This mascara was $12.50.
The second free product is the Gentle make-up remover for sensitive eyes. Right now I'm being cheap and using baby oil to remove my makeup, but it doesn't do the best job and I don't think its great for my eyes. This is great because it is for sensitive eyes and it dissolves the makeup so you don't need to rub. It is worth $14.25.
Make this deal even that much better and shop their Beauty Balm creams, which are all on sale right now.
And just because you thought I couldn't make this deal any better, shipping is free! If you like free shipping, check out our free shipping page for more stores that ship without cost with no minimum orders.
(Expiry: Unknown)