July 2016 Beauty Bag Tote, $29.99 + $11.47 Shipping @ The Shopping Channel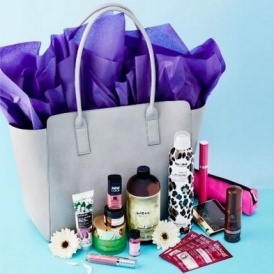 I love deals where you can try an assortment of different beauty and cosmetics brands, and this is one big deal! This Beauty Tote Bag is filled with an assortment of products, includes the cute grey tote bag, and is selling for $29.99 plus $11.47 for shipping.
In this beauty tote offered exclusively by The Shopping Channel, is all of this, and some of these products are a full retail size:
• Tweak-D Tame-D Bye-Bye Frizz! Flexible Finishing Mist (227g)
• Violife Slim Toothbrush Traveller (Sheep/Polka Dot/Umbrella)
• Perfect Formula Pink Gel Coat Colour (5ml)
• IT Cosmetics Vitality Lip Flush Butter Gloss (Pretty in Pink; 3.4ml)
• Wen Sweet Almond Mint Cleansing Conditioner (480ml)
• Elizabeth Grant Supreme Cell Vitality Enzyme Peel (100ml)
• Korres Body Butter (50ml)
• Deluxe Sample Products from Viviscal, Perricone, Vita Liberata & St. Tropez

I will let you in on a secret - the Elizabeth Grant Supreme Cell Vitality Enzyme Peel is what had me so excited about this special beauty bag offer. The retail value of that alone is $50! Here is what it does:
Suprême Cell Vitality Enzyme Peel: This exfoliating peel is gentle, yet effective in reducing the appearance of lines and discolorations and lifting dull, dry skin. This Suprême Enzyme Peel is formulated with rare algae, plant stem cells, Torricelumn™ and is blended with unique enzymes found in papaya, which help to reveal brighter, more radiant looking skin. The look of skin is revitalized through intense hydrators to help uncover visibly supple and illuminated skin. This peel may be used daily to prepare the skin for the benefits of serums and moisturizers.
With summer here, our skin will get more dry from the sun, and the exfoliation process from the above product is going to be incredible. With all of the extra goodies included in the bag, I consider that to be the icing on the cake!
Shipping is $11.47 for this beauty bag bundle.
(Deal expiry: Unknown, or while supplies last.)