Jean Coutu Canada: Buy Online & Get $10 off In-Store! (QC Only)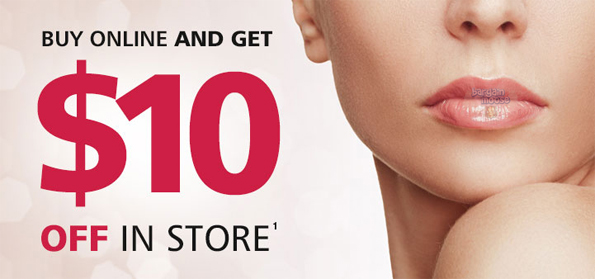 I was browsing the Jean Coutu site to see if there happened to be any active printable coupons and I noticed this line in the top corner: Free shipping with an online purchase of $25 or more. I didn't even realise that they offered online shopping! So, I browsed over to the shop section and lo and behold, I saw a little offer there, which I would like to share with you guys. Buy anything online @ Jeancoutu.com and you will get a free coupon for $10 discount in-store!
Some of you won't be familiar with Jean Coutu as it's a Quebecois chain of drugstores… so this deal is only good for our Bargainmoosers there.
Here are the only terms and conditions that I can see in conjunction with this offer:
This offer is valid until December 31, 2014. Cosmetics products bearing the "Jean Coutu Cosmetics" and/or "blue cosmetics shelf" price label. Non cumulative offer. One coupon per customer. Cannot be combined with any other offer. Restrictions apply.
While trying to browse the online store for some special offers, I came across this One Direction That Moment eau de parfum, which is naturally reduced! The Eau de Parfum was originally $54 and it's now down to only $27 with free shipping. I wonder if it smells like the band… ?
If you happen to be an Air Miles collector, you'll be pleased to hear that shopping online at Jean Coutu Canada enables you to accumulate Air Miles. Click here for more info on that.
There are also a few contests happening just now at Jean Coutu, click here to see them all. Most of them are related to Air Miles, but not all.
(Expiry 31st December 2014)