Fruits and Passion: $15 Sale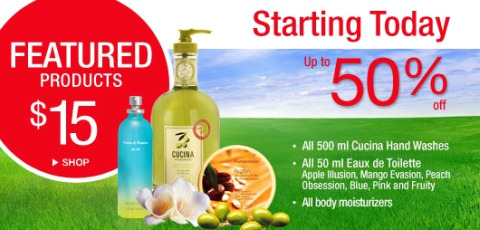 Fruits and Passion have added a bunch of items to their 'up to 50% off' list for their $15 sale!
Last time they had all body moisturizers in a jar for $15, and since then have added all 500 ml Cucina Hand Washes and all 50 ml Eaux de Toilette including Apple Illusion, Mango Evasion, Peach Obsession, Blue, Pink and Fruity. Just click the link above to shop all these great offers.
They also still have 2 for $15 shower gels and with any purchase of $35 or more you get a free sport bag.
All these deals END September 13, 2010! So, take advantage of them now.
If you are looking for extra savings on going out products, check out their clearance section.