eBeauty Canada: Summer Bag $29.99 (Over $100 Value)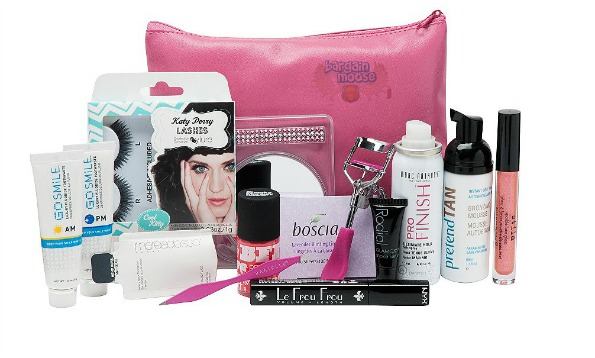 I like to buy my beauty items as sets if I can, because you can save a lot of money when you buy them this way. eBeauty Canada has a great set on sale right now.  Get their Summer Bag for just $29.99.
The total value of this Summer Bag is well over $100 when you buy the items separately, so you will be saving at least 70% by getting it all together for just $29.99.
Here is what you will get in this awesome Summer Bag:
Pretend Tan Mousse - $15 value
Mereadesso All-in-One Moisturizer
Marc Anthony Pro Finish Ultimate Hold Hairspray
Stila Sparkle Luxe Gloss in Fairy Dust - $29 value
NYX Cosmetics Boudoir Mascara - $9 value
Boscia Fresh Blotting Linens (100 sheets) - $12 value
Katy Perry Eyelashes - $8 value
Cheeky Monkey Nail Polish - $15 value
Upper Canada Soft Touch Eyelash Curler - $6.40 value
Rodial Dragon's Blood Sculpting Gel
Upper Canada Soft Touch Tweezers - $5.60 value
Upper Canada Glitter Round Mirror - $6 value
Go Smile Luxury Fluoride Toothpaste AM
Go Smile Luxury Fluoride Toothpaste PM
As you can see you get a lot with this deal: Fifteen items in total when you include the bag, which works out to be approximately $2 per item.  That is hard to beat considering one of the items is actually worth the total of the deal alone!
As for the cost of shipping, you will get free shipping for orders of $50 or more.
(Expiry: Unknown)