eBeauty.ca Cosmetics Deals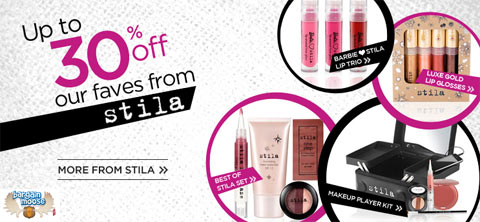 The recently opened online store eBeauty.ca has a number of special offers available during June 2011.
Some offers this month:
eBeauty offer free shipping on a $25 which is really reasonable. And they're also giving free upgrades to premium courier shipping, so you don't have to worry about the Canada Post strike.
eBeauty has tons of familiar and popular cosmetics brands. A few of my faves are: Lancaster, Cake Beauty, Stila, Elemis, Pur Minerals.... and loads more.
Drilling down into the Stila range alone, I love so many of their items! This limited edition make-up player kit looks really handy. It is reduced from $65 down to $50. Believe it or not, it's actually a little portable speaker system which you can hook up to your mp3 player, and listen to some kicking tunes as you're getting ready to go out partying for the evening (as if I can remember what that's like anyway!).  Still, combining a cosmetics kit and a speaker system - genius or weird?
I really like the colour scheme in this Stila baked cheek duo pink glow for $34. Lately, instead of putting foundation on all over my big face, I've been popping a little bronzer on the skin, and it's actually a very similar colour to this Stila product.
I'm not the biggest fan of lip gloss, as I hate it when my long flowing locks blow towards my lips on a windy day, and my hair sticks there, like some dark sticky spider's web. But I really like the colours in this Stila 24kt luxe gold lip gloss collection for $29.
P.S. Thanks for the introduction to the new company Lena!