E.L.F (US) Coupon Code: 50% Off Summer Superstars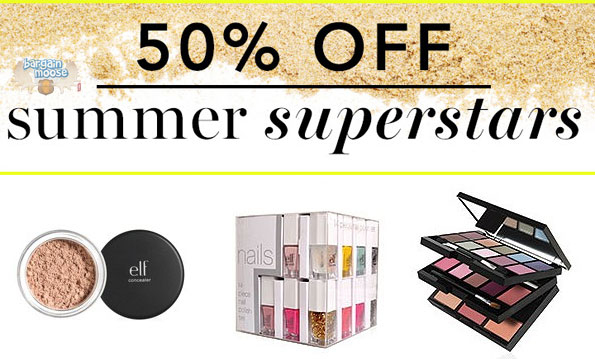 Eyes Lips Face (also known as ELF) has just released an amazing new coupon code for half off its summer superstars merchandise. Items in that category include but are not limited to: nail polish, make-up, gift sets, brush sets and much more.
Check out the summer superstars @ EyesLipsFace.com now
Coupon Code: SUPERSTARS
Discount: 50% off items in the summer superstars section on orders $25+
Expiry: 30th June 2014
You need to shop for over $25 for the discount to work but that's a really easy threshold to achieve in my opinion, especially since you could, for instance, get the e.l.f. essential deluxe starter gift set for just $25 instead of $50. It comes with a total of 26 items like a variety of lash kits, a zip zapper, a nail block, an eyelash curler etc. Although still 5 months away, I'm actually tempted to get a head start on my Christmas shopping by getting this kit right now because of its amazing price since each item comes up to less than $1 each! In case you're wondering about the quality of the set, here's what one reviewer had to say about it:
I got this for my daughter because she LOVES anything to do with it, the quality is great and the price is even better!
There is nothing I hate more than overpaying for make-up and especially silly things like nail polish or beauty accessories but with the code, you can get the e.l.f. essential nail polish for just $1 a pop in around 50 different shades like champagne, lilac, green machine, glitter, cranberry, etc.
Since my make-up tends to be scattered all over the place, I'm also tempted to get the e.l.f. essential signature bag in either silver or pink (it's also available in black) as it comes down to just $4 (reg. $8). It's a regular bag that can be zipped closed and also features a mesh pouch on one side for make-up brushes.
Shipping is at a flat rate of $6.95 per order. Keep in mind that since E.L.F. ships from the US, your order may be subject to certain duty fees. For more Eyes Lips Face coupon codes, be sure to keep an eye out on our forum.