DesignHer Kit Coupon Code For A Bonus DIY Project: Crafty Box for $19 & Free Shipping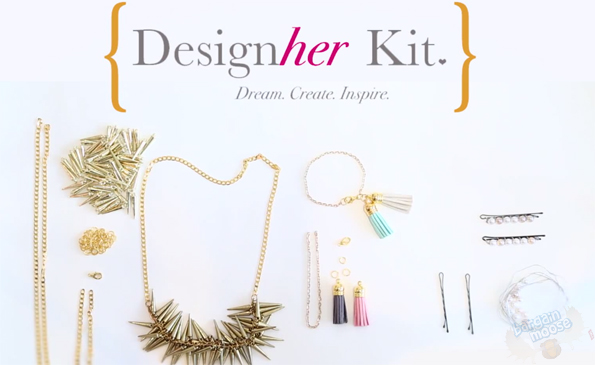 I've just blogged about a subscription box for your pets (Bowzerbox), so it's time to blog something for the humans! Well, the female humans to be precise. I was researching Canadian subscription boxes and I stumbled on Designher Kit. They are a monthly subscription box and each one contains three designer DIY projects, for making your own jewellery. I've found a coupon code for a bit of a bonus on your first order:
Click here to sign up @ DesignHer Kit Canada now
Coupon Code: CORAL
Discount: Bonus DIY project in your first kit
Expiry: Unknown
Each month's subscription box usually contains three DIY projects, but when you are placing your first order, the above coupon code means you will receive a bonus project too. This means you will get four projects in your first box.
There's no obligation for any set time period on DesignHer Kit, you can cancel your subscription any time. You can try it for one month, if you wish.
When you are signing up, you can choose your tone preference:
Gold Tones
Silver Tones
Mix of Gold/Silver Tones
I'd probably choose the mixed tones. Which would you prefer?
I'd love to try out DesignHer! A few years back, I bought a load of beads, wires, various jewellery making equipment. I wanted to be creative and try making some designs of my own… but sadly, the equipment just sat in a box and I didn't even try it. I think I wasn't motivated enough to get going on my own having never done anything like that before. With the likes of these kits from DesignHer, everything is there so I can imagine that I'd be really keen to actually make the jewellery according to the plan.
When I was googling to find out a little bit more about DesignHerKit, I found them on Indiegogo, the Canadian "kickstarter" style site. It looks like they were trying to raise some funds to start up, but didn't quite reach their goal on there. But the site is live and kicking, so they've managed without a huge amount of crowd-funding. :)
If you're looking for DesignHerKit coupon codes, this code, and many others will all be saved on our forums. Always check there before you place any online order – you never know how much you will save.
Also – if you've tried DesignHer Kit in the past, please let us know in the comments below.