Canadian Freebies: $92 Worth of Lancome Cosmetics!
Ladies, ladies, ladies… like Lancome cosmetics?
Here are some gorgeous goodies from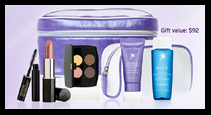 Where

: Online @ Lancome.ca

Freebie

: Free 7 Piece Gift Set Worth $92

Discount Code

: WELCOME

Cashback

: Whopping 13% @ DealGuild!
You also get free shipping on your order too! Nice!
It looks to contain aLancôme black volume mascara, a lipcolour, an eye shadow, lifting cream, eye makeup remover and a matching case and pouch.
I've had these little gifts with make-up purchases in the past, from various different brands. I really like getting them as you can sometimes find a super makeup item that you would never have found otherwise. For example, I got an excellent colour of Rimmel lipstick in one, which I loved and have bought ever since.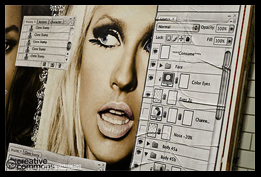 Also, the likes of the little mascaras are really handy for popping in your purse for a night out, or when you are travelling.
I was looking for a suitable image to illustrate this blog post, so I searched for Lancome on flikr. Some of the images that appeared were the advertising from Lancome, which looks really really really airbrushed. I recalled something I saw recently about an original method of grafitti, seen in the subway in Berlin – see the image I have pasted to the left. Here's the "Photoshopped Subway Ads Get Exposed in Berlin" article on Gizmodo. I love it! It really makes a statement that the cosmetics ads are just photoshopped models, sculpted into unreality by the hand of a geek behind a PC monitor.