Canadian Coupons: Aveeno Skin Care Products - $5 Printable Coupon!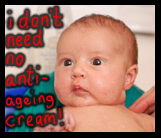 Here's a quick post to let you know about this Aveeno coupon!
If you use Aveeno lotion as part of your face care regime, check out this great printable coupon. If you use it in store, you can get a $5 discount on any Aveeno Positively Ageless Skincare product. The free coupon will be valid until the end of December 2008, so plenty of time left to make use of it.
Thank you for the pic RoPeLa!